𝐈𝐧𝐭𝐫𝐨𝐝𝐮𝐜𝐭𝐢𝐨𝐧
SIBONI expands the PL4 range, its low-voltage mechatronic platform, by introducing the 40 mm flange size.
This allows for greater compactness and for the possibility of all-in-one gearmotor solutions with integrated electronics.
The motor can reach a power up to 375W (1 Nm continuous at 4000 RPM), but the "Nearby" layout even increases the power that can be delivered.
The 40 mm size version combines compactness with the power available, in fact it already natively integrates a compact gearbox with high reduction ratios that enable the output torque to increase significantly.
The motor can be fitted with all SIBONI planetary gearboxes, but also with any other type of gearbox with minor mechanical adaptations.
Moreover, PL4 range now also offers the advantage of wireless communication via the IO-Link protocol.
𝐅𝐢𝐞𝐥𝐝𝐛𝐮𝐬𝐬𝐞𝐬
It is possible to control the motor via the following fieldbusses:
CANOpen (DS402)

EtherCat (CoE)

IO-Link Wireless
𝐖𝐢𝐫𝐞𝐥𝐞𝐬𝐬 𝐈𝐎-𝐋𝐢𝐧𝐤 𝐰𝐢𝐭𝐡 𝐂𝐨𝐫𝐞𝐓𝐢𝐠𝐨
It was through our collaboration with CoreTigo that we succeeded in developing the MOTION WIRELESS TECHNOLOGY, allowing our innovative PL4 products to be controlled through wireless technology by generating creative solutions and by increasing the efficiency of the IoT ecosystem at the same time.
The advantages of this technology are numerous:
Possibility of deterministic, real-time communication with a cycle time of 5 ms (maximum communication speed is guaranteed within an area of 10 m radius - beyond this area, communication continues to be stable but with higher cycle times)

Reduced wiring - only a power cable is required

Maximum safety - the power cable carries the Safe Torque Off (STO) connections, ensuring SIL2 certified safety in Performance Level d (Pld)

The architecture enables sensor and motion IO-Link wireless integration in a single system
In addition, this technology makes our product perfect for applications such as:
Rotary tables and all applications where sliding contacts are present, reducing the size and cost of the slip ring

Industrial Robotics, where wiring can be difficult or can wear out due to repetitive operations

Logistics, such as AGVs (Automated Guided Vehicle) and LGVs (Laser Guided Vehicle), where modular motorised solutions need to be engineered

Smart tracks, installing drives with wireless communication on individual trolleys to carry out operations that would otherwise require much more complex mechanical solutions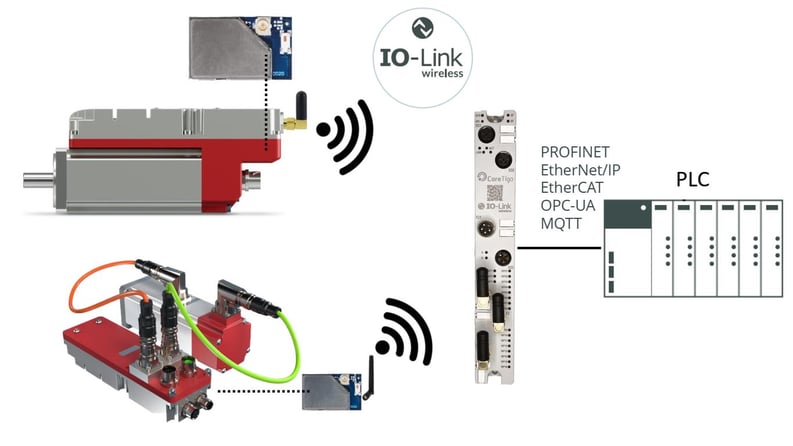 𝗧𝗲𝗰𝗵𝗻𝗶𝗰𝗮𝗹 𝗦𝗽𝗲𝗰𝗶𝗳𝗶𝗰𝗮𝘁𝗶𝗼𝗻𝘀
PL4-40

PL4-60

Voltage supply[V]

24/48

24/48

Stall torque [Nm]

0.25

1,02

Rated torque [Nm]

0.22

0,93

Peak torque [Nm]

0.44

3,06

Nominal Speed [RPM]

4000

4000

Nominal Power [W]

90

375

I/O

3 DI

1 DO

6 DI

2 DO

1 AI
Absolut Encoder – single turn / multi turn
Brake – ptional
NFC memory
Protection degree IP65
Daisy chain connection
DS402 functionalities

Profile position mode
Profile velocity mode
Torque Profile mode
Homing mode (Home torque, touchprobe home, absolute homing)
Cyclic sync position mode
𝗖𝘂𝘀𝘁𝗼𝗺𝗶𝘀𝗮𝘁𝗶𝗼𝗻𝘀
According to the SIBONI's product philosophy, the PL4 range is fully customisable for the mechanical part (e.g. gearbox), for the electrical part (e.g. special windings) and also for the electronic part (e.g. development of specific firmware functions)
For further information, please do not hesitate to contact us below.
Download product catalogue PL4-60